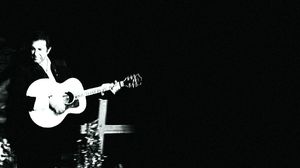 "Cashin' In" Steve Waddington's Tribute to Johnny Cash
"You're the best we've ever seen! In fact, you sound more like Johnny Cash than even J.R. did at times!"---Johnny Cash's California family members at Simi Valley
At 6'5" tall and slender, with that long black coat, dark hair piled high and an acoustic guitar slung over his shoulder, Steve Waddington is the definitive image of Johnny Cash in his prime! And when he steps up to the mic to sing, that big, rich, baritone, voice leaves no doubt...this is as close as it's ever going to get to the real thing.
Steve not only sounds like Johnny Cash, he plays guitar just like Johnny did...capo on the first fret, strumming the strings at the sound hole and way up the finger board, swinging the guitar up to ear level. All those classic Cash moves! And he delivers the songs with the same passion, the same intensity, because first and foremost, Steve is a Johnny Cash FAN! It all comes together to make this the most authentic Johnny Cash tribute yet!
"You sound so much like Cash, it's scary!"                                                            --Kris Kristofferson
A recent career highlight came when Steve and his band were selected to be the musical entertainment for an awards show in Los Angeles, and Kris Kristofferson was an honoree, chosen to receive an award. He then joined the band onstage to perform a number of his hits, all unrehearsed and impromptu, but they sounded great together! Kris' wife said, "Sounds amazing, like you've been playing with Kris for years!" Everyone...Kris, the band, the audience, and especially Steve (who's a huge Kristofferson fan as well)...had a great time! Later, as they were hanging out backstage, Kris signed one of Steve's guitars! Steve still performs with it on occasion!  A momento of a magical night!
"You don't even have to LIKE country music to LOVE Johnny Cash. And we LOVE the way Steve does Johnny Cash". --Wink and Sandy Martindale 
The band excels at re-creating the "elegant simplicity" of the Sun studio recordings at it's core, and adds elements of the bigger sound from the Johnny Cash TV shows and specials.  And when joined by Susan Ritter singing "June", especially on their duets of "Jackson" and "Big Mouth Woman", the fun really kicks into high gear! All-in-all, it's an exciting, authentic tribute to the artistry of the legendary "Man in Black".
Steve Waddington is a gifted vocal impressionist and and guitarist who has been portraying various artists in many productions, most notably Neil Diamond ("the Feel of Neil"), Dean Martin ("the Rat Pack Encore", "A Tribute to Martin & Lewis") and Johnny Cash ("Cashin' In"). In his "Retro Rockin' Show", he adds Elvis, Merle Haggard, Johnny Rivers, Dwight Yoakam, Chris Isaak and more! 
He has also acted in film and TV with such notable talents as Kirk Douglas ("Take Me Home Again"), Kurt Russell ("Breakdown"), Sam Jones ("Hollywood Safafi"), and has done many other film, TV, commercial and voiceover projects. He's known as the consummate professional and an "entertainer's entertainer".