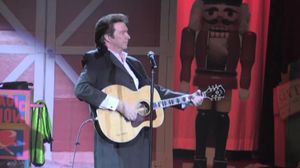 Hey...Get Rhythm!
The band is a rotating roster of some of the finest professional and in-demand players on the Southern California scene.  Each individual member has a resume that would fill an entire website. Because of the demands of their individual careers, it is necessary to have a "pool" of highly-qualified musicians from which to draw for each show. Each musician has performed countless shows with Steve, so the quality of the show remains consistent, regardless of who is onstage. 
The "glue" that keeps this all together is our brilliant musical director and keyboardist DAVID MOSCOE. He has worked with Steve in his various shows for nearly a decade, sometimes serving as a "comedy foil" for some of Steve's off-the-cuff-improv-style humor that is woven throughout the show. 
Susan Ritter is a powerhouse  singer/guitarist who brings years of experience in theatrical productions. tribute shows and more. Originally from Ohio, she has performed all over the country, and headlined her own shows in Las Vegas. Her tributes include Ann-Margret, Bonnie Raitt, Cher, June Carter Cash, Elvira, and others.
Equally at home on acoustic guitars or electric, and lead or backing vocals, she's a dedicated professional that brings a unique spark to every stage she graces.
Because of her own hectic schedule, she can't guarantee she'll be at every performance, but she does her best to be at most shows. Check in advance for her availability.