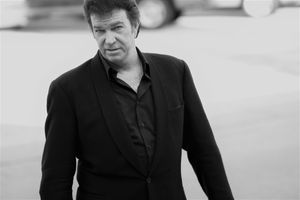 The Reviews Are In...
"You're the best we've ever seen! In fact, you sound more like Johnny Cash than even J.R. did at times!"---Johnny Cash's California family members at Simi Valley
"...you sound so much like Cash, it's scary!"                                                            --Kris Kristofferson
"You don't even have to LIKE country music to LOVE Johnny Cash. And we LOVE the way Steve does Johnny Cash". --Wink and Sandy Martindale
"I've been booking top-tier entertainers for over 40 years at my various nightclubs, some of the biggest names in the business, and Steve Waddington is one of the absolute BEST I've ever seen! Incredible talent!"  -Tom Monteleone, owner of Barone's, Monteleone's East, Monteleone's West
Amazing Band! Couldn't have asked for anything better! Steve, Susan & Group did an amazing job entertaining our guests and clients. The birthday boy was so touched by Steve's incredible voice and his amazing impersonalization of Johnny Cash that he teared up a bit and sang along for most of the show. The band is not only very talented, but they were well prepared - arrived on time, brought everything they needed, and entertained us all oh so well. On top of all that Steve is a very funny guy so he made us all laugh and really kept the party going! Everyone loved them! --Nadia, talent buyer/event coordinator
The Best Entertainer Ever! We just had an extremely important function and booked Steve Waddington as Johnny Cash at "The Ranch" in Anaheim. Steve and his group brought the house down! He was very good, funny and versatile. He was excellent to work with from start to finish. A must for every occasion. We are already thinking about when we can use him again!---Gail J. Talent buyer/event planner
Steve Waddington just performed an excellent portrayal of Johnny Cash. Steve's singing, his voice, music and wardrobe was excellent. He also did great duets with Susan who portrayed June Carter. The songs he sang were all great Cash songs and he sounded just like him. Steve was amazing, has an excellent sense of humor, and he kept my guests very entertained. ---Pat J. 
"Talented, Professional and Punctual! Steve performed for one of our corporate events. He arrived early, was set up and ready to perform well in advance of the party. Steve was engaging with our guests during his meet/greet and especially in the course of performing. Steve is extremely talented, has a beautiful voice, and performs exceedingly well.  --Doug K, agent/talent buyer
"Prompt, on time and very entertaining. Easy to work with! Our event was even more successful with Steve headlining for us. Our guests gave positive feedback and Steve was so easy to work with!" --Crystal, talent buyer, fundraiser event chairperson